ABOUT
Gareth Groves | Founder/CEO
Gareth N. Groves was born and raised in North West Washington, D.C. and is a life long D.C. sports fan. Mr. Groves received his BA in communications from Arcadia University (Glenside, Pennsylvania) in 1999. Soon after he returned to the D.C. area and has done work for the PR firm, Hayes & Associates as well as radio stations owned by Bonneville Corporations, ABC, and Citadel Communications. Working in this Industry gave Mr. Groves the opportunity to meet several local athletes. A friendship with Chris Samuels, left tackle for the Washington Redskins, developed into several business ventures starting in 2005, eventually leading to the birth of Washington Sports Marketing, LLC. Mr. Groves leadership and connections in the sports/entertainment industry promise a bright future for Washington Sports Marketing, LLC.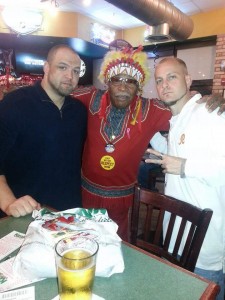 Shannon Richardson | Vice President/Director of Organizational Development
Shannon Richardson is a Maryland native and a founding partner of Washington Sports Marketing LLC. Mr. Richardson has had an ongoing involvement with professional boxing over the past 11 years and has worked with several past and future champions. He has been featured on ESPN as well as Comcast SportsNet and brings an impeccable work ethic as well as a strong history of success in the sports marketing business.